Autonomy (im)possible?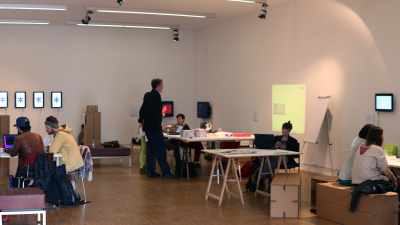 Date: 28.05 – 31.05.2014
Location: afo architekturforum oberösterreich
Uncovering new truths and making them public as a disruption and criticism of the dominant system has consequences.
Threat scenarios of the digital surveillance state inevitably have palpable effects on our lives and actions. Access to information, infrastructure and technology, which is especially important for activists in repressive regimes up to the present, has become a widely discussed issue since Snowden's disclosures at the latest, because now a broad mass of people in democratically governed states see their "privacy" endangered. Independence, confidence and freedom are massively put to the test.
Artists, hacktivists, cultural producers, journalists, software developers and idealists, in short creative actors with a desire for change increasingly find themselves in uncertain territory. Which methods and alternative tools can be used to generate new views of everyday life, work, money, politics and the environment, and to instigate a new cultural practice, to impel civil society processes, without them being nipped in the bud?
How do creative actors contribute to the process of change and which new forms of cooperation do they enter into?
# Program # AMRO Showcase # Speakers
Contributers:
Klau Kinki/ES; !Mediengruppe Bitnik/CH; Adnan Hadzi/CH/UK; Aleš Hieng, SLO; André Castro/ES; Andreas Zingerle/A; Anne Roth/DE; Dennis de Bel/NL; Roelof Roscam Abbing/NL; Dominik Leitner/A; Donna Metzlar/NL; Femke Snelting/NL; Franz Xaver/A; Heath Bunting/UK; Inari Wishiki/UK; Jakub Pišek/CZ; James Bridle/UK; James Stevens/UK; Jonathan Kemp/UK; Karlessi/IT; Konrad Becker/A; Larisa Blazic/SRB/UK; Linda Kronman/FIN/A; Lizvlx/A; Lonneke van der Velden/NL; Marc Garrett/UK; Marek Tuszynski/ Margarita Köhl/A; Martino Morandi/IT; Marie Polakova/CZ/A; Michael Schweiger/A; Nathaniel Tkacz; Niek Hilkmann/NL; Renfah/A; Robertina Šebjanič/SLO; Roelof Roscam Abbing/NL; Selena Savić/CH; Taro the cook/A; Tatiana Bazzichelli/IT; Valie Djordjevic/DE; Veronika Krenn/A; Vesela Mihaylova; Victor Diaz/ES; waiwai; Wolfgang Spahn/DE; Yoana Buzova/NL; Reni Hofmüller/A, Jogi Hofmüller/A; u.v.a